Ad blocker interference detected!
Wikia is a free-to-use site that makes money from advertising. We have a modified experience for viewers using ad blockers

Wikia is not accessible if you've made further modifications. Remove the custom ad blocker rule(s) and the page will load as expected.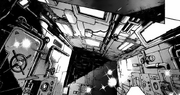 The Walfisch
is a submarine previously owned by Major
Aohi
, but "given" to
Makina
when she threatened to expose his cooperation with
Tamaki
.
Makina used this to infiltrate Deadman Wonderland.
Technical aspects
Weight: 3,200 tons
Maximum submerged speed: 34 knots (aprox. 39 mph, 63 km/h)
Equipped with acoustic wave absorbing polymer which can maximize stealth efficiency
Trivia
Walfisch is German for whale.