So I saw
Animanga's Spotlight page
, checked out Quantcast and messed around a bit. And then something caught my eye. If you look at the picture of the wiki's traffic, I'm sure you'll notice the (twelve to be exact) spikes.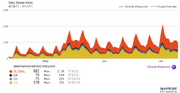 Well waddayaknow, it's the episodes! The first spike matches April 16th, the start of the anime. Then we have April 23, April 30, May 7, May 14, May 21, May 28, June 4, June 11, June 18, June 25 and July 2nd. And those dates match, the episodes with the spikes! So… it's obvious the
fifth
and
sixth episode
caused a lot of visitors. Also, of course, the
last episode
. I'm happy about that, but it also made me realize that without the anime, this wiki wouldn't be as near popular as getting 1000 visitors a day...
Ad blocker interference detected!
Wikia is a free-to-use site that makes money from advertising. We have a modified experience for viewers using ad blockers

Wikia is not accessible if you've made further modifications. Remove the custom ad blocker rule(s) and the page will load as expected.