"

For all of our scars, for all of our freedoms, we will fight our mutual enemy, to sever the chains that binds us.

"

—Scar Chain's yell
"

The reason Scar Chain is fighting towards the destruction of Deadman Wonderland, is for the sake of "freedom".

"

—Nagi Kengamine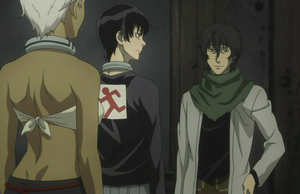 Scar Chain (自由の鎖 (スカーチェイン), Sukā Chein; Japanese for "Chains of Freedom", sometimes called Skull Chain) were a group of Deadmen that opposed the prison and planned to leak the truth to the rest of the world. They believe in each individual's own personal definition of freedom. They were lead by the Deadman Owl (real name Nagi Kengamine). His second-in-command is Karako Koshio, also known as Game Fowl, who secretly loves Owl and fights for his sake.
They set up an operation to escape Deadman Wonderland, but in the end, only a few members of Scar Chain escape.
Members
Scar Chain

(Leader)

(Assistant Leader)

(Chief Intelligence)

Ganta Igarashi
Kosugi
Kōmoto
Miya
Wakabayashi
Ueshima
Miyako
Kazu
Fujiyoshi
Endō
Ohara
Yamazaki
Akiyama
Ōshima
Unnamed Deadman
Gallery
References
Ad blocker interference detected!
Wikia is a free-to-use site that makes money from advertising. We have a modified experience for viewers using ad blockers

Wikia is not accessible if you've made further modifications. Remove the custom ad blocker rule(s) and the page will load as expected.