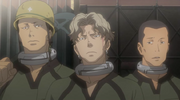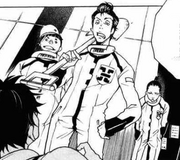 The Unnamed Thugs are prisoners at Deadman Wonderland and they harassed Ganta Igarashi when he first arrives at DW. In the anime, they are killed in the first episode, but survive in the corresponding manga chapter. They were the henchmen of Kōzuji Kazumasa during the manga Dog race show of Chapter 3, surviving the challenge.
Ad blocker interference detected!
Wikia is a free-to-use site that makes money from advertising. We have a modified experience for viewers using ad blockers

Wikia is not accessible if you've made further modifications. Remove the custom ad blocker rule(s) and the page will load as expected.