Ganta Igarashi vs Senji Kiyomasa was an obligated Carnival Corpse between Woodpecker and Crow, as well as Ganta's first Deadman fight. This was also the first Carnival Corpse seen in the series.
Prologue
After Ganta was discovered to be a Deadman and found out about G Ward, he was put in a Carnival Corpse against Crow. He met Crow the night before, where they had a brief fight (mainly Crow injuring Woodpecker and Woodpecker getting one good blow at Crow). Crow had a couple of broken ribs and a cracked sternum as a result. The match would have been called off if it wouldn't have been for Crow's persistence.
Battle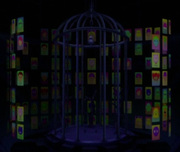 The match was hosted in a giant metal cage with a big tree in the middle. It began with Crow and Woodpecker injuring themselves to release their blood. Woodpecker immediately flees into the tree with Crow chasing him. Ganta turns and shoots a couple of blood bullets at him. Crow deflects all of them easily. Ganta collects more blood and shoots it with more power. Crow slices it in two and dodges it. Ganta feels dizzy and realizes he has massive blood loss. While Ganta was still far away from Crow, Crow sliced the trees, and Ganta with them. Ganta wonders how Crow was able to cut him from so far. The reason is that Crow can organize his blades as nets so that they can reach further without the need of more blood. Crow continues to slice Ganta until he stays on the ground. The match seems decided.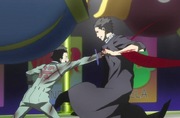 Crow walks away, but Ganta grabs his ankle. Ganta stands up and fires at the speaker above the arena. Crow looks up and slices the falling statue, believing this to be Ganta's plan. Ganta's plan, however, was to use the speaker as a decoy so that he could get close to Crow. Crow noticed too late and Ganta shoots him right in his chest. Crow falls down and the match is concluded.
Aftermath
Ganta receives his prizes (a Carnival Corpse trophy, Cast Points and Candy) and Crow congratulates him by bumping fists. They were both taken to the medical care afterward.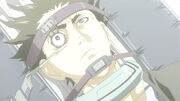 Because Senji lost a Carnival Corpse, he had to undergo a Penalty Game. The slot stopped at "right eye". The doctor removed his eye without anesthetic. After this, he wears an eye-patch over his right eye.
Ad blocker interference detected!
Wikia is a free-to-use site that makes money from advertising. We have a modified experience for viewers using ad blockers

Wikia is not accessible if you've made further modifications. Remove the custom ad blocker rule(s) and the page will load as expected.