Ganta Igarashi vs Minatsuki Takami was an obligated Carnival Corpse between Woodpecker and Hummingbird. It started as a battle between friends but soon emerged into a fight of life and death.
Prologue
When Ganta got into G Ward, he met the other inmates, including Minatsuki. The next day, he saved her from Masu and they talked about Deadman Wonderland's cruelty (with Minatsuki still playing innocent). Ganta pursued her to try to escape with him, but Minatsuki caused an "accident", which injured Ganta. They couldn't escape, but Ganta found out that he would be fighting against Minatsuki the next day.
Battle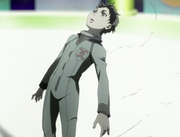 When the Carnival Corpse began, Ganta was reluctant to fight her. She then used her whip to attack him. She played mind games with him. Ganta was enraged by her and finally attacked. Yō Takami appeared in the arena disguised as a security guard and berated Ganta for attacking a girl (referring to his sister). Tsunenaga Tamaki allowed him to enter saying that it would be good for the views. Minatsuki played innocent and attacked Ganta with her whips (which are too fast to be seen).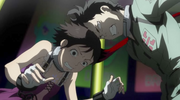 Later Minatsuki used Yō as a shield from Ganta's attacks. Ganta managed to defeat her using the ricochet from his shots to hit her. He finishes her off with a head-butt. The audience wanted Ganta to kill her but he refused and walked off as the winner.
Aftermath
As always, Ganta, as the winner, received the Carnival Corpse trophy, Cast Points and Candy. Minatsuki, as the loser, had to undergo a Penalty Game. Nagi manipulated the game, so that Minatsuki would only lose her hair.