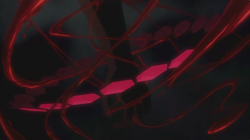 The Branch of Sin (罪の枝, Tsumi no Eda) is the ability to control and freely move your own blood. The Branch of Sin is mostly used as a weapon and can form into various objects. This power was created by the Nameless Worm carried by the Red Diamond. People who have a Branch of Sin are known as Deadmen and are confined in the G-Sector of Deadman Wonderland and are used for a show known as the Carnival Corpse. The very first Branch of Sin created, belongs to the Wretched Egg, and she is also the first Deadman.
The Branch of Sin was manufactured on accident by Sorae Igarashi and Hagire Rinichirō.
List of Branches of Sin
Trivia
The name of this power refers to its origin, as the Wretched Egg represents the original sin or roots and the branches that later came from them. It also refers to how insignificant amount of power one Branch possesses compared to that of the Wretched Egg's.
Hagire Rinichirō (while in Toto Sakagami's body) claims that he has copied every single Branch of Sin.
It appears throughout the manga and anime, that when using their Branch of Sin, hexagonal plates of unknown material appear. They usually appear in the Branch of Sin itself or just floating around it. This only occurs with the actual Deadmen, not with the Forgeries.
References
Ad blocker interference detected!
Wikia is a free-to-use site that makes money from advertising. We have a modified experience for viewers using ad blockers

Wikia is not accessible if you've made further modifications. Remove the custom ad blocker rule(s) and the page will load as expected.