Branch of Sin
Talk

4
188pages on
this wiki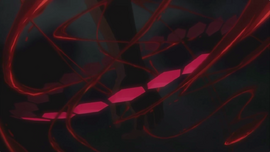 The Branch of Sin (罪の枝, Tsumi no Eda) is the ability to control and freely move your own blood. The Branch of Sin is mostly used as a weapon and can form into various objects. This power was created by the Nameless Worm carried by the Red Diamond. People who have a Branch of Sin are known as Deadmen and are confined in the G-Sector of Deadman Wonderland and are used for a show known as the Carnival Corpse. The very first Branch of Sin created, belongs to the Wretched Egg, and she is also the first Deadman.
The Branch of Sin was manufactured by accident by Sorae Igarashi and Hagire Rinichirō.
List of Branches of Sin
Edit
It appears throughout the manga and anime, that when using their Branch of Sin, hexagonal plates of unknown material appears. They usually appear in the Branch of Sin itself or just floating around it. This only occurs with the actual Deadmen, not with the Forgeries.